Witches, Goddesses and Angry Spirits: The Politics of Spiritual Liberation in African Diaspora Women's Fiction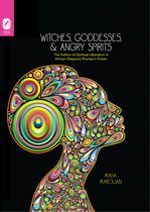 Author
Maha Marouan
www.ohiostatepress.org/index.htm?books/book%20pages/Marouan%20Witches.html
http://www.amazon.com/Witches-Goddesses-Angry-Spirits-Postsecular/dp/0814212190
Summary
Description: Witches, Goddesses and Angry Spirits: The Politics of Spiritual Liberation in African Diaspora Women's Fiction explores African diaspora religious practices as vehicles for Africana women's spiritual transformation, using representative fictions by three contemporary writers of the African Americas who compose fresh models of female spirituality: Breath, Eyes, Memory (1994) by Haitian American novelist Edwidge Danticat; Paradise (1998) by African American Nobel laureate Toni Morrison; and I, Tituba, Black Witch of Salem (1992) by Guadeloupean author Maryse Condé.
Author Maha Marouan argues that while these authors' works articulate Africana women's experiences with displacement and fragmentation at the heart of diaspora, the liberating potential of their creolized practices clearly communicates their quest for wholeness. To make sense of Africana women's experiences of the diaspora, this book operates from a transnational perspective that moves across national and linguistic boundaries as it connects the Anglophone, the Francophone, and the Creole worlds of the African Americas. In doing so, Marouan identifies crucial shared thematic concerns regarding the authors' engagement with creolized religious frameworks heretofore unexamined in such a careful, comparative fashion.
Click here to download the flyer in PDF format.