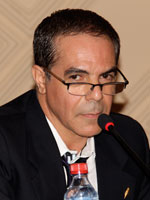 Chouki El Hamel
Associate Professor of History
Arizona State University
Dr. Chouki El Hamel received his doctorate from the University of Sorbonne (Paris, France). His training in France at the Centre de Recherches Africaines was in pre-colonial African History. His research interests focus on the spread and the growth of Islamic culture and the evolution of Islamic institutions in Africa. What interests him most as a scholar is the culture of silence. He is particularly interested in investigating the subaltern relationship of servile and marginalized communities to ruling institutions, power, race, class and gender politics within Islamic culture. He taught courses in African History and Islamic societies at North Carolina State University in Raleigh and at Duke University from 1994 to 2001. In 2001-2002, he was a scholar in residence at the Schomburg Center for Research in Black Culture in New York City and in 2002, he joined the History Department at Arizona State University in Tempe. He published two major books and many scholarly articles in academic journals and popular magazines. His most recent book is Black Morocco: a History of Slavery, Race, and Islam (Cambirdge University Press, 2013).