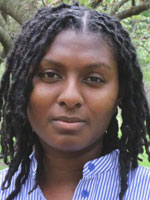 Laurie Lambert
Associate Professor
of African American and African American Studies
Fordham University
Laurie R. Lambert is an interdisciplinary scholar, working at the intersection of literature and history in African Diaspora Studies. Before joining the faculty at Fordham, Lambert was Assistant Professor of African American and African Studies at the University of California, Davis, and the 2014-2015 Postdoctoral Fellow in Critical Caribbean Studies at Rutgers University in New Brunswick, NJ. She received her PhD in English and American Literature from New York University in 2013.  Her first book, Comrade Sister: Caribbean Feminist Revisions of the Grenada Revolution (forthcoming with the University of Virginia Press), examines the gendered implications of political trauma in literature on Grenada. The book analyzes how Caribbean women writers use authorship as a means of expressing cultural sovereignty and critiquing the inadequacy of hierarchical, patriarchal, and linear histories of a black radical tradition as they narrate the Grenada Revolution. In so doing, Lambert reads Caribbean literature as a primary site for the excavation of gendered readings of revolution, identifying the marginalized voices of women and girls at multiple unexpected sites of political formation.
Lambert received her BFA in Film Studies from Ryerson University in Toronto, Canada, as well as an MA in English from the University of Toronto.  Her research and teaching interests include Black Feminism, Caribbean Literature and History, Black Performance Studies, Literatures and Cultures of American Imperialism, African Diasporic Literature and History, Freedom and Slavery Studies, and Black Radicalism. Before becoming ASWAD's secretary in November 2019, she served on the executive board and was also the Membership Manager.