Officers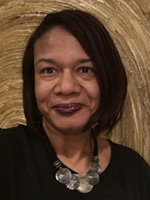 Natanya Duncan
Director of Africana Studies and an Associate Professor of History
Queens College City University of New York


 

Natanya Duncan an Associate Professor of History. A historian of the African Diaspora, her research and teaching focuses on global freedom movements of the 20th and 21st Century. Duncan's research interest includes constructions of identity and nation building amongst women of color; migrations; color and class in Diasporic communities; and the engagements of intellectuals throughout the African Diaspora. Her forthcoming University of Illinois Press book, An Efficient Womanhood: Women and the Making of the Universal Negro Improvement Association, focuses on the distinct activist strategies in-acted by women in the Universal Negro Improvement Association (UNIA), which Duncan calls an efficient womanhood. Following the ways women in the UNIA scripted their own understanding of Pan Africanism, Black Nationalism and constructions of Diasporic Blackness, the work traces the blending of nationalist and gendered concerns amongst known and lesser known Garveyite women.