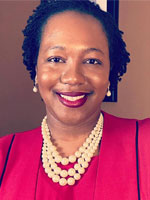 Yolanda Covington-Ward
Department Chair and Associate Professor in the Department of
Africana Studies
University of Pittsburgh
Yolanda Covington-Ward is Department Chair and Associate Professor in the Department of Africana Studies at the University of Pittsburgh. She also has a secondary appointment in the Department of Anthropology and is currently President of the Association for Africanist Anthropology. She received her M.A. and Ph.D. degrees in Cultural Anthropology from the University of Michigan and a B.A. in Afro-American Studies from Brown University. Her research focuses on embodiment, identity, religion, performance, and politics, emphasizing the agency and creativity of people of African descent in transforming the worlds around them.
Her first book Gesture and Power: Religion, Nationalism, and Everyday Performance in Congo (Duke University Press, 2016) was awarded the 2016 Amaury Talbot Award for African Anthropology from the Royal Anthropological Institute and the 2017 Elliott P. Skinner Book Award from the Association for Africanist Anthropology. She has new projects looking at migration and identity formation for Liberian immigrants in the U.S., religious embodiment in the American South in the 19 th century, and Congo recaptives in 19 th century Liberia. She is co-editing a volume (with Jeanette Jouili) on Embodying Black Religions in Africa and Its Diasporas: Memory, Movement, and Belonging through the Body (forthcoming, Duke University Press, 2021) and a second volume (with Naomi Andre and Jendele Hungbo) on African Performance Arts and Political Acts (forthcoming, University of Michigan Press, 2021). She has previously published in the journals Africa Today, The Journal of Immigrant and Minority Health, Women and Performance, Transforming Anthropology, The Journal of Africana Religions, and The Journal of Black Studies, among others. She has received a number of prestigious fellowships and awards including but not limited to the Ford Postdoctoral Fellowship, the Andrew W. Mellon Fellowship, a grant from the National Science Foundation, and she is also a former Fulbright fellow.