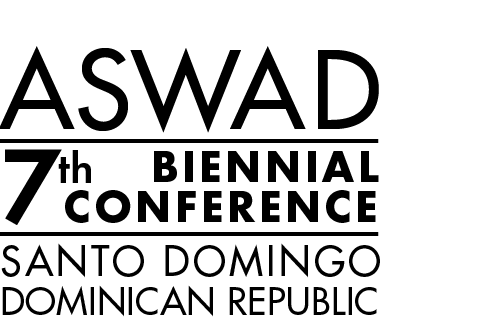 Dear ASWAD members and friends,
ASWAD has just concluded our 7th biennial conference in Santo Domingo, Dominican Republic. During our visit, we had rich opportunities to share research, experiences, and ideas not only with ASWAD colleagues, but also a wide variety of representatives of Afro-Dominican civic, political, intellectual and cultural society. From our welcome at the site of a 16th century Wolof rebellion to our closing evening in the heart of the community of Villa Mella, we enjoyed a remarkably diverse set of engagements.
Our decision to move forward with the conference was not taken lightly, in view of the recent court decision to challenge the citizenship of thousands of Dominicans, primarily those of African descent with Haitian ancestry. In collaboration with our Dominican colleagues, we were able to use our presence to bring heightened visibility to the situation, and to extend our solidarity with organizations involved directly with the people most immediately affected by the ruling. We had opportunities to hear directly from Afro-Dominican organizations at a special plenary, and to meet in more intimate settings with both Reconoci.do, a youth organization defending citizenship rights, and the MUDHA local school founded by the late Sonia Pierre. Additionally, we have set the foundation for longer term collaborations, including the possibility of supporting the development of African diaspora studies in the Dominican Republic.
On behalf of our entire organization, I would like to thank our officers Tanya Huelett and Yuko Miki; our conference Program Committee and Local Arrangements Committee; our remarkable graduate assistants Amber Henry, Ebony Jones, Susana Holguín-Veras, and Dulce Weschler, each of whom played critical roles in making this conference a success; the NYU team of graduate students who so ably staffed the registration desk; author Edwidge Danticat for her message to ASWAD; our webmaster Marc Ronquillo; and very special thanks to Leslie Alexander for her coordination of the final program. Of course, this would not have been possible without the partnership of our Dominican-based Local Arrrangements Committee, who brought us such a wealth of experience and a gracious embrace. We thank also Rutgers University for their generous support as our principal conference sponsor, and our local host, the Instituto Tecnológico de Santo Domingo (INTEC).
Most of all, I thank each of you who participated with your presence and spirit to continue to make ASWAD such a nurturing community of scholars of the African diaspora.
Sincerely,
Kim D. Butler, President
ASWAD
Transformative Visions:
(back to top)
Confronting Change and Creating Opportunity in Africa and the African Diaspora
Creative response to change and challenge has long been a hallmark of the African diaspora experience, from the multiple ways enslaved peoples carved autonomous spaces across the Americas and Caribbean, to the use of new technologies to move politics and re-imagine communities throughout Africa and the African diaspora today. In 2013, the seventh biennial conference of the Association for the Study of the World Wide African Diaspora (ASWAD) will take place in Santo Domingo, the Dominican Republic. The conference aims to address how transformative visions, past and present, have been brought to bear on the challenges confronting peoples of Africa and the African diaspora, from historically overlooked individuals to mass movements. How have African diaspora people marshalled activism, spirituality, creativity, and the unique resources of diaspora to re-fashion challenges into new opportunities? How are diasporic solidarities and fissures affected by global conflicts and movements? ASWAD seeks creative explorations of diaspora through innovative framings, methodologies, and discourses as we address these questions. We welcome submissions from all disciplines on both historical and contemporary topics and on all geographic areas including Africa, the Americas and Caribbean, the Middle East, Europe, and Asia. Paper and panel proposals that incorporate new categories of diasporic analysis and that stimulate discourse across traditional boundaries are encouraged, as are roundtables and panels on diaspora and comparative diaspora studies.
By taking place in the Dominican Republic, the 2013 ASWAD conference will highlight the history and visionary nature of black and anti-racist thought as it has emerged within the Caribbean. We will honor the Dominican intellectuals, activists, and artists who are working to transform the historical tensions with Haiti and the denial of black ancestry among its mostly mulatto and black population, along with their counterparts in Haiti. The struggle against racism as it has been articulated throughout the African diaspora will be a key dimension of our explorations of transformative visions. Sessions and events will be structured to maximize exchange between Dominican and visiting participants. The conference is hosted by the Instituto Tecnológico de Santo Domingo (INTEC), a Dominican university dedicated to supporting African Diaspora studies and to bridging the intellectual and activist communities of the Dominican Republic and Haiti, and is co-sponsored by Rutgers University.
Special collaborative initiative: In an effort to encourage exchange and dialogue, ASWAD may invite Dominican scholars to be included on panels where appropriate.
Membership:
(back to top)
All panelists must be registered for the conference. Conference rates are discounted for ASWAD members. To become a member of ASWAD, please click on the link below:
http://aswadiaspora.org/join.html
Principal Venue:
(back to top)
INTEC (Instituto Tecnológico de Santo Domingo). INTEC is located approximately 30 minutes by car during daytime traffic from the Hotel Magna 365 (former Melia Hotel). ASWAD will be providing shuttle vans from the Hotel Magna 365 to INTEC.
Accommodations/Hotel Reservations:
(back to top)
The Melia Santo Domingo will serve as the main host hotel, although most of the sessions will be held at INTEC, the Instituto Tecnologico de Santo Domingo. Shuttle transfers will be provided for registered participants. A block of 75 rooms has been reserved, but availability will diminish quickly. Information on the Melia Santo Domingo is provided below; when making reservations, please indicate that you are an ASWAD conference participant to get the special rate.
Hotel Melia Santo Domingo/Hotel Magna 365
Phone: 809-221-6666
Please note: The Hotel Melia will join the Sheraton Group as the Sheraton Santo Domingo Hotel in 2013
ASWAD rates:
Single $125.00 + 26% tax ($157.50); Double: $135 + 26% tax ($170.10). Breakfast is included in room rates for ASWAD participants.
To book your reservation at the ASWAD rate, please download and complete the form below, and send to: [email protected]. You may also return the form via fax to: (809) 687-4274
Reservation form:
Melia_Reservation_Form.doc
Melia_Reservation_Form.pdf
Hotel website:
http://www.hotelmagna365.com/
Additional Hotel Options:
SD Hotels info.pdf
SDQ Airport Shuttle Service
(back to top)
This service will be available for all participants at a special rate of $20 (round trip). To book this service, please visit Servitur's website (www.servitur.com.do/Reserva.aspx for Spanish and http://www.servitur.com.do/EN/Reserva.aspx for English) and complete the form. Please include your dates of travel, airline name, and flight numbers for both your arriving and departing flights. Fee is paid in cash only upon boarding the shuttle.
Taxi service from the airport to the hotel ranges from $45 – $60 USD and you can find several reputable companies online that can provide the service. We strongly encourage you to use airport transportation only from reputable companies and exercise caution when making taxi arrangements.
Special Conference Events – ADVANCE REGISTRATION REQUIRED BELOW
(back to top)
The conference events listed below will have space limitations, so advance registration is required. Please follow the links below to register: